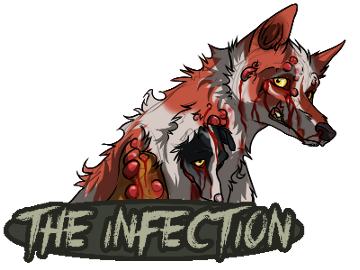 Disease & Infection

"What is this vile thing that corrupts our very souls?"

We would like everyone to notice that Army/Convoy Dogs have a 50/50 Resistance to the Bite/Fluid/Injury Strain of the Infection!
Now I imagine you're all rather excited to hear about the infection that concerns the dogs of Eden. Especially after seeing the STAGES imagery in the Featured gallery. But I must warn you now that if you are squeamish or a bit delicate to blood, gore and other nasty things, than this group may not be the one for you. You know, just in case no one got that impression already... Okay moving on if you wish to know about the infection and it's hosts then you must also start with the healthy.
YOUR CHARACTER MUST HAVE THE 2 MAIN EFFECTS AND 2 + SIDE EFFECTS. ADDING 2 SIDE EFFECTS AND 2 MAIN EFFECTS IN EACH STAGE LEVEL UP. AND THE INFECTION MUST BE VISIBILE ON YOUR APPLICATION! WHILE LISTING YOUR MAIN AND SIDE EFFECTS IN YOUR APP IF INFECTED, THIS IS EFFECTIVE AS OF NOW SO PLEASE EDIT YOUR APPS BEFORE OUR NEXT OPENING IN APRIL/MAY!
Healthy Characters
These dogs are as healthy as can be considering the apocalypse, sure there might be a slight case of rickets, kennel cough, fleas, ticks or mange. But under that most dogs of Eden have it good. They get both a good source of rabbit meat and vegetables from the propagator and everyone gets a ration. Maybe even a cut or a scratch every now and again from climbing all over the slum like buildings that consist of Eden. All they have to do is wear their mask outside, avoid injury at all cost and try not to drink or eat tainted/infected food or water.
The Infection: General Information
But now we get to the root of Eden's problem. The mysterious infection that was spread after the bombs. The physicians have yet to figure if it is a virus or a bacteria. But it is obvious that it situates itself within the brain, (just ask Arsonna she likes to crack their heads open.) The infection can be spread through many ways some of which include: Bites, scratches, bodily fluids, Wasteland air, water and even some foods like meats. But it's most successful vectors come from bodily fluids like blood and saliva, and the toxic wasteland air that seeps through broken gas masks.
Another interesting fact is how fast the infection can spread. (which depends on how you got infected.) Just as an example there will be some outlined time frames below. Beware though infection times can vary from a few hours, to a few months, sometimes even years!
> Born Into Wasteland - 1/15 years
> Infected Scratches/ grazes - 9/12 months
> Infected Water Exposure - 6/7months (based on how much was drunk)
> Infect Air Exposure - 8 weeks / 4 months (depending on how long it was breathed)
> Infected Bites/ Low Severity - 6 weeks / 2 months (pending on what low severe location they where bit or had an injury spat/bled on)
> Infect Bites/ High/Medium Severity - 3 hours / 4 weeks (again pending on location: neck, face, stomach in this range)
Signs & Symptoms
There are many signs and symptoms of infection, and every dog reacts differently to most stages, and can vary from dog to dog. Firstly:
Stage 1
Stage one is the stage that most dogs exhibit about two to three hours after infection. While still cognitive and able to speak the dog may feel tired, have puffy/red eyes, exhibit a lack or increase in appetite, and in some rare cases; show ataxia, mild dizziness. But by the ending hour of the stage generally show symptoms of irritability. Stage one is the primary stage when the infection first enters the blood-stream to begin working it's way all around. If you can spot the infected injury it will appear inflamed and some dogs early infected describe it feeling numb with small pockets of pain.
Stage 2
Stage two however is more complicated and noticeable. At this stage most dog's eyes go from puffy to bloodshot, and the flesh around their lips begins to become inflamed. At this point the infected dog becomes even more irritable, and more argumentative and snappish. Not to mention most dogs begin to get a slight rasp or slur in their speech. As well as having their nose block up with mucus. Infected dog's generally begin to feel tinges of paranoia at this point, but only feather light tinges really. In rare cases some dogs may experience nosebleeds, hear voices and begin to bite, chew or injure themselves (albeit only minor scratches, grazes, bites, cuts.) The infected injury's inflammation may also appear to begin to spread it's inflammed look, and will be hot to the touch, even if the infected is shivering. This is the latest stage point available for a dog to be kicked out of Eden, before they begin to turn on others, and it is paramount that the infected citizen is either kicked out or killed outside of Eden, depending on what the dog's remaining family or friend's decide.
Stage 3
Stage three is when the infection begins to truly show it's colours. At this point the infected canine begins to truly lose it's cognitive ability as the dog will stutter, speak rapidly or forget word and names, sometimes even memories. At this point dogs may experience, delusions, paranoia, manic levels of energy, drooling, extremely bloodshot, discoloured eyes, extreme sleep deprivation, agressive behaviour, violence, fever, rapid breathing and heart rate and in some rare cases seizures, convulsions and vomiting. About 90% of infected however experience bleeding from either their eyes, nose or mouth. At this point the fur itself around the infected injury will generally become discoloured with a sickly, slick tinge. Most dogs at this stage will either begin to hurt others severely and about 30% begin to hurt themselves, whether it's bashing their own face against a rock or chewing out their own guts. This stage generally either results in the infected bleeding to death, killing itself or killing/infecting others.
Stage 4
Stage four is the brief time frame that can last up to 4 hours to 9 weeks. The infected canine will have lost most of it's cognitive thought all together and may spit out the odd word or shout at random points in time. Plus it is highly unlikely for the infected to remember someone from it's past life, and if it does it may go into a fit of confusion induced rage or simply run away from the familiar. At this point 90% of infected are bleeding from their eyes, nose, mouth and ears. Their breathing and heart beats will be four times faster than normal as to keep up the infection's speedy pace not to mention the infected's signature extreme eye discolouration and the now extreme sickly look the infected injury will take on. Most infected canine's at this point also experience paranoia, delusions, violence, and manic energy. by this point an infected can no longer feel pain in about 70% of cases, making them terrifying as they limp along, heart still beating with a broken jaw. Possible side effects at this stage can include: Cannibalism, fever, convulsions and seizures, self-harm, and fur loss or vomiting bile.
Stage 5
Stage five is the farthest stage infected dogs seem to survive to if they don't die or are killed. Dogs at this stage will gain a unique discolouration turning their eyes into blood filled sacs, or in some cases just cancerous masses as only about 2% retain their stage four and below type eyes. The infected will bleed from it's ears, eyes, mouth and nose, and hair loss may begin or continue to occur, leaving the flesh underneath raw and sickly looking. At this point the dog's infected injury will be nothing more than an inflamed lump of skin. All at this stage will experience extreme violence, lose all cognitive ability and memories, and become impervious to pain of all kinds. Their breathing will be in quick pants and their heart rate will beat as fast as it can. At this stage the infected's body is working overtime. For what? We do not know as they seem to die out around this stage.
MAIN EFFECTS
- Inflamed/Bloodshot Eyes
- Lack / Increase in Appetite
- Irritable
- Imprevious To Pain
- Violence
- Heightened Temperature & Heart + Breathe Speed
- Bleeding From eyes/mouth/nose/ears
- Paranoia
- Psychosis
- Loss of Cognitive Ability
- Loss of Fur
- Vomiting
- Hypervigilance
- Death
SIDE EFFECTS
- Delusions / Illusions
- Self Harm
- Seziures/Convulsions
- Manic Energy
- Eye Discolouration
- Insomnia
- Drooling
- Injuries No Longer Heal
- Stuttering
- Rapid Speech
- Ataxia
- Vomiting Blood
- Vomiting Bile